If you're wondering what to make of the outcome of the Leveson Inquiry, you're probably not the only one. So here's a quick ten introduction with a load of useful links from recent articles where you can 'read all about it!'
1. You can download the report itself
here
, though it is a bit of a lengthy read at 1.4 million words and nearly 2000 pages. That is actually longer than all the Harry Potter novels combined, which come in at 1.1million. If you read it carefully and check all the sources, you may even find some mistakes. Already spotted is a bit that was obviously copied and pasted from Wikipedia (tut,tut), where Leveson wrote:
'The Independent was founded in 1986 by the journalists Andreas Whittam Smith, Stephen Glover and Brett Straub.' In fact, Straub is a made-up character whose name was added to the newspaper's Wikipedia profile by pranksters. It appears to have been cut and pasted from the web without any checking (spotted by The Daily Mail and others)
2. The report is the outcome of the Inquiry itself, which took statements from and questioned witnesses for several months. Amongst those who appeared were victims of phone hacking, including both celebrities like Hugh Grant and ordinary people like the parents of murdered girl Milly Dowler, politicians, newspaper editors and proprieters and many more. The Inquiry itself came out of the phone hacking scandal which led to the closure of the News Of The World, and was set up by Prime Minister David Cameron, to look at the whole culture of the relationships between newspapers, politicians and police and to get to the bottom of the wrongdoing that had gone on. As Leveson reported, it is the seventh such Inquiry since the end of World War II, as freedom of the press v public anxiety about the behaviour of the press has tended to be an all too frequent opposition.
A range of Leveson witnesses all looking like they are describing the size of a fish that they nearly caught.
3. How was the press regulated before Leveson? Broadcasting has OFCOM, adverts have the ASA, films have the BBFC. Newspapers have had something called the PCC (Press Complaints Commission) for nearly 20 years which looks into complaints by members of the public and has a code of conduct for journalists. Many people believe that it lacks 'teeth' because it is a voluntary body and not all newspapers even belong to it (The Express Group, for example, withdrew in early 2011). Very few complaints are upheld by it and it is seen as too cosy and largely controlled by powerful editors. The phone hacking scandal was seen as a classic example of this, with the PCC having largely dismissed it until the shocking revelations reached a point where it became obvious to anyone that they were largely true.
What else do you need to know?
Well, the best summary I have found of the whole thing is here from The Guardian, which outlines ten key areas from options and arguments to a history of regulation. It was published before the final report, so it is very useful for background. There is a post-report summary on this blog which is quite accessible.
Also from The Guardian is this useful piece on newspaper coverage of the Inquiry and why reform is needed and here Emily Bell suggests that the growth of the internet may make most of the report largely irrelevant . An angry Steve Coogan says why he thinks David Cameron's response is wrong and Nick Davies talks about why only the right wing papers have anything to fear from change.
The Daily Telegraph argues against adoption of Leveson's proposals here and former Guardian editor, Peter Preston also sees the report as flawed, but from a different perspective here.
And another useful blogpost from Maire Messenger-Davies from the University of Ulster here
Some papers ran adverts to scare readers about what Leveson's outcome might mean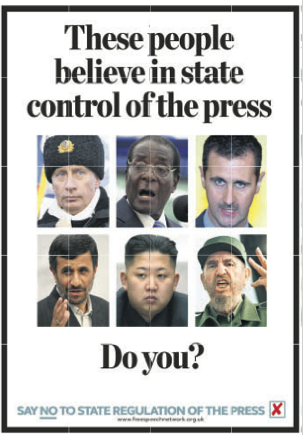 So have a good read and keep your ears and eyes open as to what happens next!
...and finally, the forgetful editors video mashup